U.S. Secretary of State Hillary Clinton is warning Syrian leaders they will be held accountable if they resort to the use of chemical weapons in their increasingly difficult fight against insurgents. Clinton spoke after NATO foreign ministers authorized the deployment of an anti-missile system to help protect member-state Turkey's frontier with Syria.
Secretary Clinton said the NATO decision to deploy the U.S.-made Patriot missile-defense system to Turkey sends a "clear message" to Syrian leaders that Turkey has the alliance's full support. And she issued a warning to Syrian president Bashar al-Assad and other officials, following reports their troops have been transporting chemical weapons and could be preparing to use them as the rebel siege of Damascus intensifies.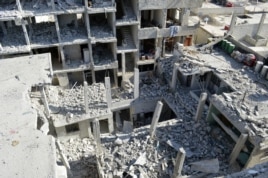 View of buildings damaged by what activists said were missiles fired by a Syrian Air Force fighter jet loyal to President Bashar al-Assad at Jessreen area in Ghouta, east of Damascus, December 2, 2012.
​​"Our concerns are that an increasingly desperate Assad regime might turn to chemical weapons, or might lose control of them to one of the many groups that are now operating within Syria," said Clinton. "And so, as part of the absolute unity that we all have on this issue, we have sent an unmistakable message that this would cross a red line and those responsible would be held to account."
Clinton also called on President Assad to reach a political settlement with Syria's newly reorganized opposition.
U.S., Dutch and German troops are expected to deploy the Patriot system during the next few weeks. Officials said it will be configured to fire non-explosive projectiles at incoming Syrian missiles. Turkey requested the help after Syrian missiles landed on its side of the border in October.
Russian Foreign Minister Sergei Lavrov said Tuesday that NATO is exaggerating the threat from Syria. He said Russia believes the reports of chemical weapons preparations are not true, and that any such use would be "grave" and unacceptable. Russia believes the October incident was accidental.
NATO officials stress the Patriot system is purely defensive.
Secretary General Anders Fogh Rasmussen said Wednesday the deployment does not signal any intention to intervene in the Syria conflict. But he called it a "timely warning" that Syria "should not even think" of using chemical weapons.
(VOA)