After having little success playing it safe, the Afghan government is gambling on a risky new strategy to convince the Taliban that the road to peace runs through Kabul.
In recent months, scores of Taliban officials and rank-and-file have been freed from prisons in Afghanistan and neighboring Pakistan. Now, Afghanistan is upping the ante with the expected release of thousands more within its borders while pushing Islamabad to free some of the Islamist militant group's most dangerous characters.
The prisoner releases are seen as a signal of good faith from the administration of Afghan President Hamid Karzai, who is wary of peace efforts not led by Kabul but whose overtures for direct talks with the Taliban have been refused.
But there are no assurances that the freed detainees will, as Kabul predicts, help bring the Taliban leadership to the negotiating table or convince militants to reintegrate into Afghan society.
Analysts say the move is fraught with risk, and has little chance of succeeding.
"The worst-case scenario, which is actually quite likely, is having these individuals return to the Taliban, bolster their ranks, and increase their efficacy on the battlefield," says Jeffrey Dressler, a senior analyst and team leader for Afghanistan and Pakistan at the Institute for the Study of War in Washington.
"It would not surprise me one bit if the majority of these folks were recaptured or killed on the battlefield six months to a year from now."
Dressler says that even those who might be ready to give up the fight would be highly reluctant to facilitate reconciliation.
'Doomed From The Start'
The Afghan authorities announced on January 4 that 80 prisoners captured in operations against the Taliban and other groups had been released from Bagram military prison, which houses some 3,000 Taliban fighters and suspected terrorists. A further 1,200 prisoners, it was announced, would be freed in the coming weeks.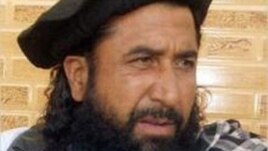 Mullah Abdul Ghani Baradar is seen as the main target for talks.
​​In neighboring Pakistan, 26 Taliban have been freed in recent months amid reports that Kabul had presented a 40-man wish list to Islamabad. The release of about 100 more prisoners is reportedly forthcoming.
David Young, a Washington-based conflict-resolution expert and adjunct fellow at the American Security Project, says the Afghan government's latest effort to get the Taliban leadership to the negotiating table is "doomed from the start."
He says that even before the detainees were released, it was unknown what role the freed militants might play in bringing Taliban leaders to the negotiating table, what connections they still have to the group's leadership, or even their stance on negotiations.
Under a "safe passage" agreement between Kabul and Islamabad, according to Young, prisoners have been released with no conditions and many have simply disappeared. A better approach, he suggests, would have been to home in on key individuals.
Top Taliban Prisoners
Mullah Abdul Ghani Baradar
Mullah Baradar is without question the top Taliban prisoner on the list. Kabul sees the high-ranking Taliban official as key to its negotiation efforts. Baradar, who formerly headed the Taliban's military and political wings, has shown both the intent and capability to facilitate talks between Kabul and the Taliban leadership.
Baradar was detained by Pakistani authorities in the southern city of Karachi in February 2010, reportedly for facilitating talks between Kabul and the Taliban command without approval. His arrest is seen as a main reason why earlier attempts at peace talks broke down.
Mullah Noorudin Turabi
Turabi, the Taliban's former justice minister, was freed by Pakistan in November 2012. During the Taliban's 1996-2001 rule in Afghanistan, the one-legged Turabi was considered a religious hard-liner and had legal responsibility for the regime's brutal public executions. Turabi was also reportedly behind the decision in 2001 to blow up Afghanistan's ancient Bamiyan Buddha statues, an incident that caused international outcry.
Turabi was captured in Afghanistan soon after the U.S.-led invasion but controversially released by the Afghan government in 2002. He was arrested in Pakistan in 2005. Reports suggest the 60-something Turabi is in poor health.
Anwar ul-Haq Mujahid
Mujahid is reported to have been released from a Pakistani prison in November 2012. He was the Taliban's military commander in eastern Afghanistan and head of Taliban operations in Tora Bora, the reputed hiding place of Al-Qaeda founder Osama bin Laden in Afghanistan. Mujahid was appointed as head of his own faction of the Hezb-e Islami after the demise of his father, Yunis Khalis. The elder Khalis, who died in 2006, was a militant commander in Afghanistan's Nangarhar Province, near the border with Pakistan. Anwar ul-Haq Mujahid was arrested by Pakistani authorities in 2009 and was a member of the Taliban's military council.
Mullah Abdul Ahad Jahangirwal
Jahangirwal is a former adviser to Taliban leader Mullah Mohammad Omar who was never promoted to a senior position. Jahangirwal, who was also the Taliban's spokesman in Kandahar, the group's spiritual birthplace, was arrested by Pakistani authorities around 2009.
Agha Jan Mohtassem
Mohtassem, a former Taliban finance minister, is Mullah Omar's son-in-law. He was reportedly arrested in the Pakistani city of Karachi around 2009.
Sayed Tayeb Agha
Agha is another close advisor to Mullah Omar. Agha was arrested as part of a wider crackdown on the Taliban by Pakistani authorities in 2009. He was detained in Karachi, like many Taliban members at the time. Some reports have suggested that he was arrested because he was seeking negotiations with Kabul.
​​"In order to work, a strategy like this would require the release of officials who still hold significant weight in the Taliban's political apparatus, but are reconcilable. Secondly, it would be far more effective if Afghan officials had taken the time to build relationships with the prisoners before they were released," Young says.
"Their sincerity and access to the Taliban could have been tested while they were still in prison. And then perhaps arrange their release once it became clear that they would be more effective on the outside."
Key Personalities
The list of 40 prisoners Kabul reportedly asked Islamabad to release appears to contain few who would fit that mold.
The list includes Mullah Noorudin Turabi, a former Taliban justice minister who oversaw the regime's infamous public executions.
Then there is Anwar ul-Haq Mujahid, a military commander who headed Taliban operations in Tora Bora, the reputed hiding place of Al-Qaeda founder Osama bin Laden.
Others on the list include top advisers to Taliban leader Mullah Mohammad Omar.
One exception could be the man at the top of the 40-man list, Mullah Abdul Ghani Baradar. The former Taliban deputy leader was arrested in Pakistan's southern city of Karachi in February 2010, some believe because he was facilitating secret talks between Kabul and the Taliban leadership.
Young says the fact that Islamabad has not yet released nor extradited Baradar could be seen as an indication of Pakistan's reluctance to hand over individuals truly capable of aiding Kabul's reconciliation efforts.
"Mullah Baradar would clearly qualify. But Pakistan is not releasing him, in my eyes, because he would be more effective than all the rest combined," Young says. "Baradar is clearly the golden goose, free of coercion, and he has already shown the intent and capability to deliver."
What Incentive Does Taliban Have?
Afghan-led peace efforts have suffered a string of setbacks over the years.
The Afghanistan Peace and Reintegration Program, which offered jobs and security to Taliban foot soldiers and benefited from some $140 million from international donors, has convinced only about 1,000 militants to drop their weapons.
The assassination in 2011 of Burhanuddin Rabbani, a former Afghan president who headed of the Afghan High Peace Council, deprived the body of a high-profile leader.
And while some contact between Taliban representatives and Afghan officials has taken place — including informal meetings in Saudi Arabia, the United Arab Emirates, the Maldives and, most recently, in France in December — progress has been minimal.
Despite its overtures the Taliban has refused to directly talk to the Afghan government, labeling it "illegitimate" and a "Western puppet."
Ryan Evans, a research fellow at the Center for National Policy, an independent think tank based in Washington, says that Kabul's recent strategy is intended to show the Taliban leadership, as well as the Afghan public, that it can act independently of its Western allies.
But with international forces preparing to withdraw by the end of the year, the timing couldn't be worse. "The incentives for the Taliban to negotiate a deal just aren't there," Evans explains.
"The incentives do exist for them to talk about talking in a way to get concessions and cause friction between the Afghan government and the International Security Assistance Force and within the Afghan government," Evans adds. "But we cannot create these incentives for them to make a deal while we are leaving."
RFE/RL