Ayatollah Ali Khamenei is arguably one of the world's most-wired authoritarian leaders. 
Already active on microblogging site Twitter, social network Google+, and photo-sharing network Instagram, Iran's supreme leader has now joined Facebook — which has been blocked by Iranian authorities and demonized as a "Zionist" instrument and a tool of "soft war" against the Islamic republic.
The "Khamenei.ir" Facebook page, which was launched on December 13 and publicized on the supreme leader's Twitter account, has so far been liked by more than 3,000 users.
The Facebook debut is the latest move by Khamenei's media-savvy Internet team, which spreads his "ideas and personality" in several languages in cyberspace. The team is also behind Khamenei's sophisticated Khamenei.ir website, which is available in 13 languages.
Khamenei's Facebook page is likely to stir up controversy and raise eyebrows among the millions of Iranians who must access Facebook through antifiltering tools and proxy servers.
Iranian journalist Hadi Nili says the Islamic establishment uses different means to spread its message and reach out to supporters around the globe.
"For the same reason that Iran launches the English-language PressTV or a Hispanic TV station for Spanish speakers or Arabic channels," Nili says, "it uses Facebook and Twitter, which are cheap and easy to use."
Nili believes Khamenei's page is more likely to attract foreign viewers than Iranian Facebook users, who might not give it such a warm welcome.
Many of Iran's Facebook users access that social network to connect with each other, discuss taboo issues such as state censorship or news related to the suppressed opposition movement, or engage in online campaigns in support of political prisoners.
During 2009's antigovernment street protests, activists used Facebook to publicize amateur YouTube videos and other materials that documented the brutal state crackdown they faced.
Those activities are seen as a threat by Iranian officials, who have already targeted a number of activists over their Facebook posts. Blogger Sattar Beheshti, who last month died in custody, was reportedly arrested over his Facebook activism.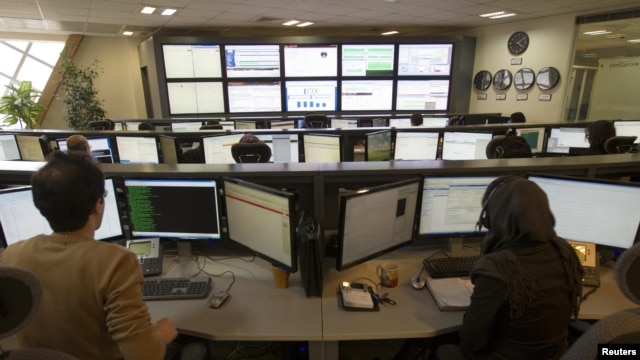 Technicians monitor data flow in the control room of an Internet service provider in Tehran in 2011.
​​
Abdolsamad Khoramabadi, an Iranian official with the state-run body in charge of online censorship and computer crimes, said earlier this year that posting materials on Facebook that are considered immoral, contravene sacred Islamic principles, or disrupt security and peace is considered a crime.
Khamenei's Facebook page so far has just four posts — including a photograph of a young Khamenei walking behind Ayatollah Ruhollah Khomeini, the late founder of the Islamic Republic of Iran (pictured above). The posts have received positive comments but also criticism targeting Khamenei and his state policies, including online censorship.
"Praise to Khamenei, Death to those against velayat-e faqih ("guardianship of the jurisprudent")," writes one supporter in a reference to the notion of "guardianship of the jurisprudent" under which Khamenei rules.
Another praises Khamenei for joining Facebook, which he says could be a venue for reaching out to Iranian youth. He notes, however, that the page should be unblocked inside Iran.
"God willing, by removing the filtering from this site and the presence of more officials, and accepting the conditions of the youth, the path for the country's future could become bright," he says.
There are more calls for an end to state filtering on Facebook.
"Is [Ayatollah Khamenei] also using antifiltering?" one user asks sarcastically.
"…You've done a great service to Iran and that is the spread of corruption, prostitution and lies," writes another.
It's not clear whether the Facebook page's administrators will allow such comments and criticism to appear on the page in the future. Criticism of Khamenei — who holds ultimate political and religious authority under the Iranian Constitution — is considered a "red line" in the Islamic republic, and those who cross it can end up in jail.
"Can we insult here?" asks one user who appears to be referring to the charge brought against those who have been jailed for challenging Khamenei.
(RFE/RL)