Has Russia's special relationship with Germany hit the rocks?
German lawmakers last week passed a nonbinding resolution calling on Chancellor Angela Merkel to raise concerns about the state of human rights in Russia when she meets with President Vladimir Putin in Moscow on November 16.
The Bundestag endorsed a toughly worded report by Merkel's commissioner on German-Russian relations, Andreas Schockenhoff, that specifically links backsliding on Russian democratic development with Putin's return to the Kremlin in May for a third term as president.
​​
For years under former German Chancellor Gerhard Schroeder, Berlin was one of Russia's best friends in Europe, with relations being built primarily on pragmatic — i.e., energy — considerations and on close personal ties between Schroeder and Putin. Schroeder once famously called Putin "a flawless democrat."

But the rapport has been undergoing a change under Merkel.
"In terms of the relationship with Russia, I think it is a relationship that is what the German diplomats like to call 'strategic,' in that we don't share a lot of values, but we need this country for certain things," says Constanze Stelzenmueller, a senior transatlantic fellow at the German Marshall Fund. "I'm being very frank here, but that is the street definition of the strategic relationship. Allies, friends are people you really share values with. The Russians don't qualify for the term ally or friend, I don't think."
Moving Away From Russian Energy
Russian imports account for roughly one-third of Germany's natural gas consumption.
Cognizant of this, Merkel has pushed to wean Germany off its dependence on Russian energy by building coal-fired plants and developing Polish shale gas.
​​She has also been one of the most vocal European critics of Belarusian President Alyaksandr Lukashenka, a close Moscow ally.
She strongly endorsed the European Union's Eastern Partnership program, over Moscow's vocal objections.
According to Stelzenmueller, this strengthened the positions of EU members like Poland and Sweden, who favored developing closer ties with Russia's former Soviet neighbors.
"The point here is that German diplomacy was quite happy to move into synch with Stockholm and Warsaw on a more proactive policy on the eastern periphery," she says. "Exhibit A for this is German-Polish policy toward Belarus."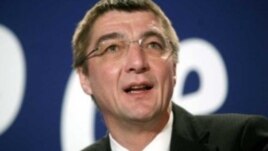 Andreas Schockenhoff
​​
And now the report by Schockenhoff, as well as comments he made earlier about the Pussy Riot case, is casting a shadow over Merkel's visit to Russia this week.
Merkel is due to attend the biannual Petersburg Dialogue and hold talks with Putin in Moscow.
In a recent interview with "Der Spiegel" online, Schockenhoff said: "The fact is that the [Russian] police, courts, and lawmakers now rely on the intimidation and repression of civil society. It's even possible to assign a date to when this approach began: May 6" — the date of Putin's inauguration.
When the draft of Schockenhoff's report emerged last month, Russia's Foreign Ministry was outraged. It accused Schockenhoff of "defaming" Putin personally and took the radical step of declaring it no longer recognized Schockenhoff as a representative of the German government.
In response, Merkel's spokesperson, Steffen Seibert, said Russia's reaction was "astonishing," and he chided the Kremlin by maintaining that Berlin alone decides who represents the German government. He affirmed that Schockenhoff will be traveling with Merkel to Moscow for the Petersburg Dialogue session.
'A Public Spat'
Edward Lucas, international editor for "The Economist" and author of "Deception: Spies, Lies, and How Russia Dupes the West," believes the willingness to be publicly confrontational with Moscow is a new development for Merkel's ruling Christian-Democratic Union (CDU):
"We now see in the heart of the CDU public dissatisfaction with Russia and a willingness on Germany's behalf to engage in a public spat," he says.
Another sign of this new willingness, Lucas suggests, is Germany's decision to try a couple of accused Russian spies who were arrested in 2011 and are believed to have been spying for Moscow since the late 1980s.
Merkel has reportedly never enjoyed close personal relations with Putin.
Germany's chattering class still tells the story about a visit Merkel made to Putin while he was prime minister. Putin reportedly kept her waiting for an unseemly amount of time and then sat her down next to his black Labrador, although he was aware she is afraid of dogs.
This contrasts sharply with the close personal relationship Putin had with Gerhard Schroeder, Merkel's predecessor as chancellor — or with other European leaders, for that matter.
Schroeder set up the Petersburg Dialogue together with Putin in 2001 and after leaving the chancellery he became chairman of the board of the Gazprom Nord Stream pipeline project.  And Italian Prime Minister Sylvio Berlusconi occasionally hosted Putin's family at his summer home.
In Edward Lucas's view, the developments of recent weeks make Merkel's Moscow trip particularly portentous.
"These are really sharp things which were all very unusual in the past," he says. "And you add to it the debate in the Bundestag on [November 9] and it sets the scene for a very interesting — perhaps the most interesting week for a decade in German-Russian relations — with the Petersburg Dialogue and the Putin-Merkel summit coming up. And I wish I could be a fly on the wall at all of them."
(RFL/RL)