The mass shooting last week at an elementary school in Connecticut sparked calls for stricter gun control laws in the United States. But thousands of kilometers away, the fledgling gun lobby in Moscow drew a different lesson: Gun laws in Russia should be liberalized. 
And while the powerful U.S. gun lobby group, the National Rifle Association, waited four days before issuing a public statement on the tragedy, which claimed the lives of 20 children and six adults, the Moscow-based Right To Bear Arms made its voice heard within hours with an announcement on its website calling for increased access to weapons.
"In this shooting six teachers died, six people who could literally use only their hands to defend children," said Maria Butina, the organization's 24-year old founder. "The murderer planned this knowing that no one would be armed."
Boosted by a surge of civic activism and a stream of new violence that has kept guns in the news, leaders of Russia's gun movement — virtually nonexistent a year ago — say all they have to do now is convince Russians themselves of the value of greater access to guns.
And their rhetoric appears to be inspired, at least in part, by that of the gun lobby in the United States.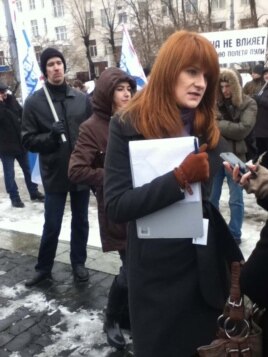 "What is the right to life, ingrained in our constitution, if you don't have the right to bear arms?" says group founder Maria Butina.
​​At a frigid rally on December 1, American country music legend Johnny Cash's "Don't Take Your Guns To Town" blared over a Moscow square, where about 80 people had gathered as part of a series of rallies organized around the country to support gun rights in Russia.
Unlike the U.S. Constitution, which enshrines the right to bear arms in its Second Amendment, there are no such guarantees in Russia's basic law. Nevertheless, Butina, who also claims membership in the National Rifle Association, said gun possession is a civil liberty.
"What is the right to life, ingrained in our constitution, if you don't have the right to bear arms? If a person wishes to defend himself, he has no means for protection," she said.
Another activist, Artyom Ryabov, said massive protests earlier this year showed that the country was increasingly unstable. The 37-year-old computer systems administrator compared the current situation to that of 1917, when he said those opposed to the Bolshevik Revolution were left without weapons and were therefore powerless to stop "tyranny."
Prime Minister Dmitry Medvedev fires a machine gun at a weapons factory outside Moscow in October.
​​"It's not a secret that Russia's at a particularly difficult situation," he said. "And in order to stabilize it, the first thing [necessary] is to allow citizens to possess weapons. Paradoxically, this will calm the citizens."
Although Butina and other organizers stressed that Right To Bear Arms is an apolitical movement, most in the crowd carried nationalist flags or displayed nationalist insignia.
Convincing the broader population of the need to expand gun rights in Russia, where the murder rate is higher than any country in Europe, will likely be a difficult proposition.
In a 2011 poll by the independent Levada Center, 80 percent of respondents said they would be opposed to an expansion of gun rights. Under current law, Russians can own smooth-bore, long-barreled shotguns and nonlethal weapons for self defense, like gas pistols and stun guns. Handguns, as well as assault weapons, are illegal.
The rules that exist in the United States are absolutely unacceptable for Russia or even for the United States itself.
Russian Prime Minister Dmitry Medvedev
At a meeting on December 19, Prime Minister Dmitry Medvedev called guns a danger to society and ruled out any ease in access.
"The rules that exist in the United States are absolutely unacceptable for Russia or even for the United States itself," he said. "Although they are proud of some well-known constitutional amendments — this happens — it is horrible and impossible to justify."
Nevertheless, support for gun rights has gained approval in some quarters of both the Russian opposition and in the ruling United Russia party.
In July, Aleksandr Torshin, vice speaker of the Federation Council and a United Russia member, announced plans to introduce a law expanding access to handguns. And opposition figures such as anticorruption blogger Aleksei Navalny and former State Duma deputy Gennady Gudkov, have called weapons a last line of defense against crime.
Navalny, who did not attend the rally in Moscow, nevertheless retweeted a call to participate to his 300,000 Twitter followers.
Although an expansion of access to weapons is unlikely in Russia, the new lobby is determined to make its voice heard.
At the Moscow rally, Igor Shmelyov, a burly and energetic volunteer dressed in a puffy camouflage coat, clutched a clipboard with a bright yellow, English-language bumper sticker on its back.
"I Am The Gun Lobby," it said.
(RFE/RL)